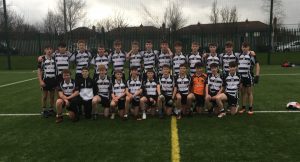 To date we have played 2 league matches The first was at home to Clane which we won 2-9 to 0-8. The second was away to Celbridge 2-7 to 1-10
Training is going well. We have 3 more league matches to play before the end of April and hopefully progress from there.
U16 Squad: Cormac Barker, Sean Furlong, Joel Kavanagh. Harry Monaghan, Odhran Healy, Adam Duggan, Luke Rushton, Jake Murphy, Sean Knight, Adam Condron, Jack Broe, Scott Fleming, Eoin Redmond, Ciaran O Brien, Nathan O Reilly, John Healy, Liam Knight, Theo Kavanagh, Martin O Toole, Ross Cahill, Finn Rooney, Daragh Burke, Phelim Behan.