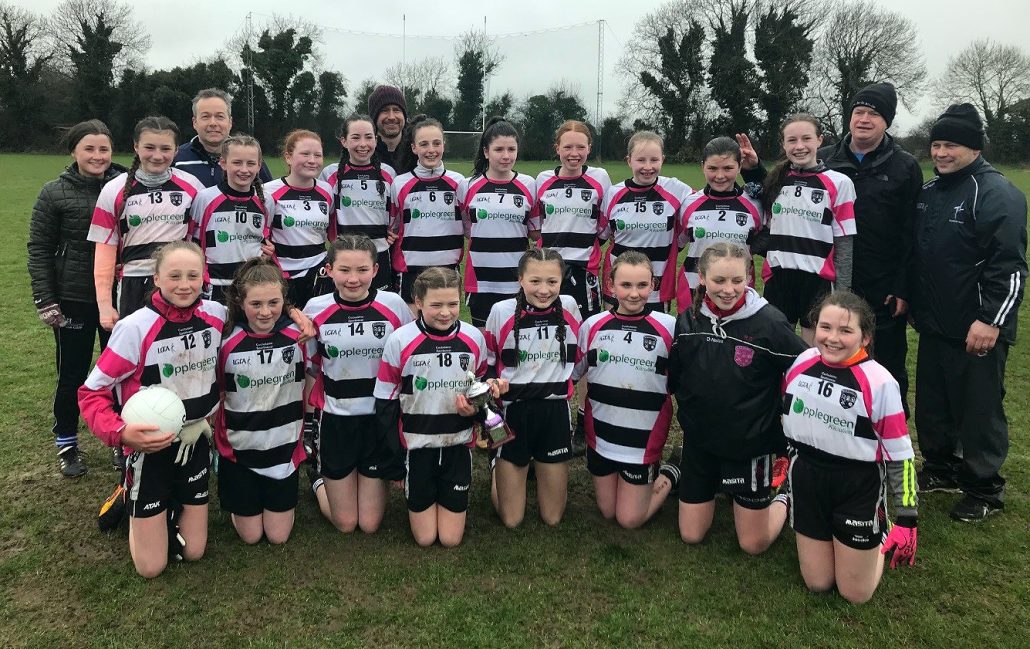 Kilcullen U14 Girls kicked off the defence of their Feile champions' title on Saturday the 31st of March with a home match against Raheens. Kilcullen were grouped with Raheens and Sarsfield. Kilcullen got a quick start so important in the Feile competition and scored a number of early goals with Roisin Cahill playing at full forward. Roisin displayed her football skills and notched two goals, assisted by Edwina Birchall also with two goals for Kilcullen. Siofra O'Reilly came off the bench in the second half and scored a cracking goal with Kilcullen going on to win on a comfortable score line.
Next up was Sarsfield who beat Raheens' while the Kilcullen girls tried to recover from the cold. Thanks to the parents who provided hot drinks and lovely snacks for players, mentors and supporters.
Kilcullen took on Sarsfield and the prize for the winners was a semi-final slot in the Kildare Feile A competition. Sarsfield played with a sweeper hoping to quell the scoring ability of Kilcullen. Goals were harder to come by against a packed defence but Kilcullen scored some long range points and lead 1 – 8 to 0 – 1 at halftime. Kilcullen found the net a number of times in the second half and goals by Rosin Cahill, Misha Ginty, Sophie Ngai and Edwina Birchall resulted in a final score-line of Kilcullen 5- 14 and Sarsfield 1 – 3. Oliva Monahan who spent most of the week in bed with the flu but took to the pitch against both Raheen and Sarsfield and gave a spirited performance.
On Monday the 2nd of April Kilcullen travelled to Hawkfield to take on Eadestown in the County semi final. It was a wet, cold miserable day for football and not a day for free flowing football, the style normally adopted by Kilcullen. Eadestown brought their A game to Hawkfield and their midfield pairing dominated the first half. Eadestown missed some scores in the first half while Kilcullen made most of the possession they had and scored 1 – 4 to a 0 – 1 for Eadestown in the first half. Camoihe Egan had a great second half scoring two points and was ably assisted by Sophie Ngai. Roisin Cahill scored the Kilcullen goal. Kilcullen won 1 – 08 to 0 – 02 and progressed to the final.
St Laurences beat Maynooth in the other semi final. Kilcullen played against the wind in the first half but contained the Larries with Amy Bermudez dominating the full back position and ably supported by Zara Hurley and Sarah Kenny. Hannah Crowley moved back to the half back line and won all the ball that came in her direction. Ava Cronin was comfortable at half back and Molly O'Loughlin commanded the centre back position with great authority.
St. Laurence scored a goal but Kilcullen responded with a great kick out from Roisin Brown to Hannah Crowley, pass to Hannah Breen who in turned passed to Sophie Ngai. Typical of Sophie she took off and ran 30 yards with the ball and planted it into the corner of the net. What a response and what leadership by the captain. Half time score Kilcullen 1- 05 St Laurences 1 – 01. Spohie Ngai scored 1 -04 and Misha scored a brilliant point.
Second half Kilcullen moved up through the gears and won the second half by 2 -06 to a point. Hannah Breen and Ellen Coleman took control of midfield and were ably supported by Hannah Crowley who covered a lot of ground. Edwina had a great personnel battle and won numerous possession. On the inside forward line, Roisin Cahill, Camoihe Egan and Ellie Bermudez were full of trickery and won plenty of ball. Kaleah Taaffe, Rachel Byrne and Hannah Maloney all made a contribution on their arrival to the pitch. Final scoreline Kilcullen 3 – 11 to St. Laurences 1- 02.
Kilcullen have won this blue ribbon event for a third year in a row and will represent Kildare at the National finals in Louth at the end of June. Sophie received the cup on behalf of the team and was gave a splendid speech.
Team ; Roisin Brown, Zara Hurley, Amy Bermudez, Sarah Kenny, Ava Cronin, Molly O'Loughlin, Ellen Coleman, Hannah Crowley, Hannah Breen, Edwina Birchall, Sophie Ngai, Misha Ginty, Camoihe Egan, Roisin Cahill, Ellie Bermudez, Hannah Maloney, Rachel Byrne, Soifra O'Reilly, Oliva Monahan and Kaleah Taaffe.