Club Development
'The overall aim of the Development Committee is to improve the clubs facilities to allow our club to develop & improve at all levels on and off the pitch'
Our aim at the start of 2014 was to submit a successful application for the Sports Capital Grant Programme for the erection of match standard floodlights to our main pitch.
We were successful with our application and we were awarded the amount of €100,052.00. This was an unbelievable figure to be awarded and was the maximum amount that the club were eligible to qualify for. Our application was successful due to a number of factors.
Once we were successful with our grant application our development committee was formed. Our development committee is made up of the following people, each of whom brings their own particular expertise to the committee:
Martin Murphy (Chairman)

Ger Breen

Niall Howard

Killian Whelan

Henry Barrett
From our first meeting, it was obvious that the injection of funding that the successful grant had given should encourage the club to improve other areas of the club. The 2 main items that were identified in addition to floodlights to main pitch were 1) Drainage to Training Pitch & 2) Floodlights to Training Pitch.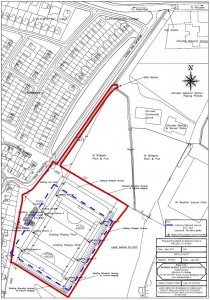 After reviewing the works involved, the finances required and most importantly what we need to achieve to enhance our clubs facilities, we have decided to complete all of these works within the next 12 months.
With the approved grant and the requirement for bridging finance to start the main pitch floodlights, we have recently received approval from the Clubs Executive Committee, Trustees and Main Committee along with Kildare County Board to apply for a loan for €100,000.  €40,000 of this loan will be repaid in year one with the proceeds of the grant, with the remaining balance of €60,000 to be repaid over the next 6 years.
This is a large commitment for the club and the first major development we have undertaken since our fine clubhouse and main pitch were opened in 2002.  These were major development works at the time which were carried out by a dedicated team within the club who successfully brought this project from conception to completion with the last loan repayment for this development being repaid this year.
If our aim is to be successful on the pitch, our facilities must match this aim. Our proposed development of Match Standard Floodlights to our main pitch will rival any pitch in Kildare while our development of high quality drainage with correct training lights will allow teams to train in proper conditions at any time of the year.
Our aims for 2015 are to ensure that we have completed the following projects:
Floodlights to Main Pitch

Drainage to Training Pitch

Floodlights to Training Pitch
In order to achieve our aims, we would ask that everyone as a club get behind these projects and the future fundraising initiatives we will be launching over the coming months to make our loan repayments. These projects are not just for this year's senior team or juvenile teams they are for future generations of players at all levels.
In August 2015 the contracts were signed for the development of the main pitch floodlights with the drainage and floodlights to the training pitch completed as well as a new gym facility opened alongside the existing clubhouse. 
"If everyone is moving forward together, then success takes care of itself." –Henry Ford
Thank you for your continued support