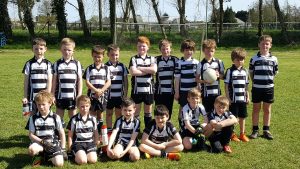 Kilcullen Under 9 boys played 2 very competitive friendlies against Kill GAA under9's in glorious spring sunshine last Saturday afternoon.
There was some excellent skills on show by both teams, with a wonderful display of score taking throughout the afternoon.
These games will stand to the boys as they look to continue their good start to the under9 South Board league.
Pictured: BR – Evan Sheehan, Cillian Forde, Charlie Norris, Alex O'Neill, Rory O'Malley, Garvin McDevitt, Daniel Ryan, Daniel and Robert O'Gorman, Sean Cahill.
FR – Daniel Liston, Cathal McDevitt, Sean Wilson, Matthew Tobin, Alex Coote, James Baars.