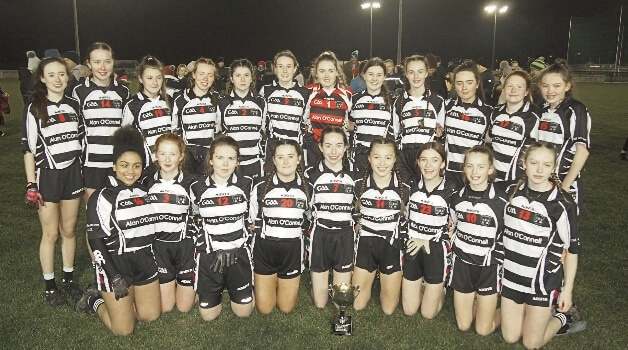 Kilcullen 4-15 Leixlip 4-2
On a cold clear October evening in Hawkfield Kilcullen U-15 girls completed an amazing year with Kilcullen's 6th underage ladies title in 2018 and an undefeated season from U-13 to U-16 level. This U-15 crown added to U-13, U-14 and U-16 Division 1 titles, a Kildare U-14 Feile A and All Ireland U-14 Feile titles.
Kilcullen started quickly registering 4 points in the first 10 minutes, all from the boot of Sophie Ngai with two from play and two frees. Kilcullen's opening goal followed quick interplay between Jill O' Toole, Hannah Breen and Edwina Birchill, who passed to Eabha Devenney, who struck a lovely shot from 20 yards which seemed destined for the top corn, only for an a magnificent fingertip save from Leixlip keeper Corna Nallen who pushed the ball off the cross-bar. Kilcullen's full forward Abbie Fitzgerald was the first to react hitting the rebound on the half volley into the net.
Leixlip were finding it difficult to get past Kilcullen's half backline with Jill O'Toole dominating the center back position and Molly O' Loughlin at right half back and Ellen Coleman on the left both timing tackles perfectly and attacking from wing back. When Leixlip got into more advanced positions Kilcullen's Siobhra Behan always appeared to in the right position and made numerous relieving clearances. She was ably assisted by the strength of Hannah Crowley and the non-stop tackling of Ava Cronin in the full back line. Kilcullen's left half forward Roisin Browne really came into the match midway through the first half winning Leixlip's kick outs on several occasions and feeding corner forward Roisin Cahill who was able to beat her marker and on several occasions, just as she was about to shoot she was drawing the foul. Sophie Ngai was in great form converting the majority of frees awarded. More flowing football resulted in corner forward Rachel Keane scoring a nice point.
The score of the game was a thing of beauty. Kilcullen's Keeper Rachel Carey saved a good Leixlip shot, passed it to right corner back Ava Cronin, full back Hannah Crowley in support received the hand pass and fed right half back Molly O' Loughlin. Molly cut inside and passed to center-back and captain Jill O' Toole who passed to midfielder Hannah Breen who came off her shoulder and carried the ball forward to midfield. when held up by good Leixlip defending, her midfield partner Eabha Devenney came off her shoulder, received and gave a lovely foot pass which opened up the space to corner forward Rachel Keane. Rachel quickly passed to center half forward Sophie Ngai who gathered athletically and gave a lovely pop pass into right half forward Edwina Birchill who never broke stride, collected, accelerated and found the top of the net. A goal to grace any final.
Kilcullen were leading 2-7 to no score on 23 minutes. Leixlip dug in and were on top in the last 7 minutes of the half. Leixlip got their reward with an excellent goal and finish from Ailbhe Harrington. Kilcullen added two further points. A brilliant save from Kilcullen's Rachal Carey resulted in a point for Leixlip's Kate Cullen when a goal looked certain. At half-time it was 2-9 to 1-1 in favor of the Rags.
The pattern of the first half was repeated in the second half with Kilcullen again dominating the early exchanges, drawing frees and Sophie Ngai converting. Leixlip had dropped an extra player into their defence and space was hard to come by but the non-stop running of Edwina Birchill and Hannah Breen was proving hard to defend against and Eabha Devenney's accurate kick passing was finding the forwards. Sophie Ngai kept chipping in with scores from play. Abbie Fitzgerald scored a nice point and added her second goal with another cool finish. Kilcullen introduced Chloe Acton to strengthen up the backs and Ellie Bermudez, Olivia Monaghan , Mia Whelan and Anna Harrington came on in the forward line to finish off the game. Olivia Monaghan produced her usual non-stop livewire performance. Despite the score gap widening Leixlip kept going and came much more into the match half way through the second half and got their rewards with three very well taken goals. Kilcullen were awarded a penalty following a push on Abbie Fitzgerald. Despite the Leixlip protests, Sophie Ngai remained calm and slotted home the penalty. Leixlip kept going strong right till the end. Mia Whelan scored a lovely point to finish off a great team performance from the Rags who were crowned 2018 U-15 division 1 champions.
Kilcullen scorers: Sophie Ngai 1-12 (1 penalty, 6 points from frees and 6 from play), Abbie Fitzgerald (2-01), Edwina Birchill (1-0), Rachel Keane (0-1), Mia Whelan (0-1).