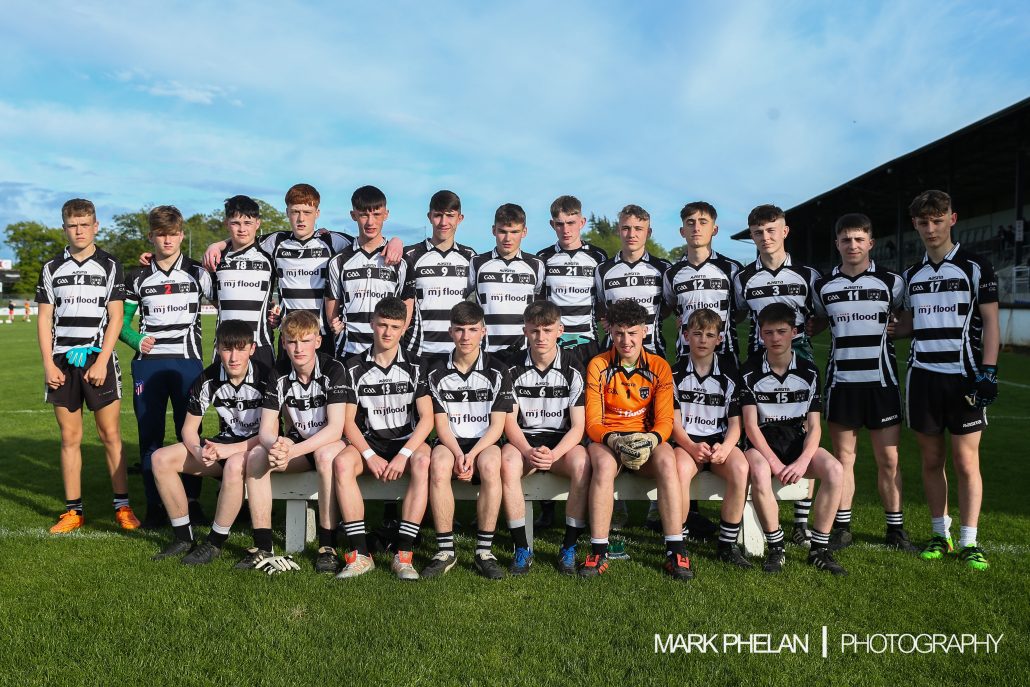 Division 1 football success has been the thing of dreams if you have been a Kilcullen GAA player or supporter of the past years. But with a thriving underage system in place things are changing in Kilcullen with a strong underage boys and girls structure starting to deliver success at the higher echelons of juvenile GAA.
Saturday evening in St. Conleth's Park Newbridge was the evening when all the stars aligned for 'The Rags' as their purposeful U16 boys lifted the Division 1 league title over near neighbours St. Laurences to write themselves into the annals of the club's history books.
There was a lot at stake for both teams with not only division 1 silverware up for grabs but also the derby bragging rights with the majority of both teams coming from the same school and classes in Cross & Passion Secondary School in Kilcullen.
Kilcullen had blown away Celbridge in their semi final as St. Laurences sat in wait for the winner after topping the league round robin stage to justifiably earn direct passage into the winner take all decider.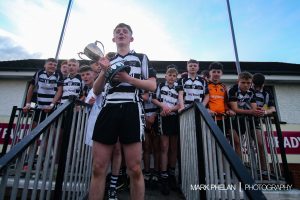 St. Laurences went into the final as favourites after dealing a real hammer blow to the Kilcullen lads earlier in the campaign beating with an easy victory over their near neighbours.
All that changed on Saturday evening last and the writing was on the wall after just 30 seconds when Kilcullen got the first score of the final, a well worked goal by corner forward Nathan O Reilly. St. Laurances contributed much to their own downfall by missing 5 clear scores before registering their first point of the match on 11 minutes thanks to corner forward Ben Corcoran.
Kilcullen answered with a point from half back Adam Duggan and on 16 minutes Kilcullen got their final score of the half when once again they rattled the net thanks to the skills of number 10 Scot Fleming.
St. Laurances dominated the scoring for the remainder of the half slotting over points in 21st and 22nd minutes courtesy of PJ Cullen and Cian Miley before Ben Corcoran added a brace of frees to leave the half time score Kilcullen 2-01 St Laurences 0-05.
VIEW: Full photo gallery from the final by clicking here.
Adam Condon replaced Ross Cahill in the second half for Kilcullen and it was the 'Rags' who hit the ground running slotting over the first two points of the second half with a free from Nathan O Reilly and a point from play from Ciaran O Brien to leave the score 2-03 to 0-05 after 39 minutes.
St Laurences were not about to let this one slip away without a fight and had a purple patch scoring 3 unanswered points from the boot of Alex Mackey, Ben Corcoran, and half back Cathal Byrne to trail by the slimmest margin 2-03 to 0-08.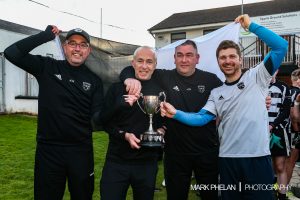 That was as close as St. Laurences were to get to Kilcullen as a free from Nathan O Reilly settled the young rags before number 8 Sean Right put daylight between the teams again with a point from play.
As we entered the final minutes Finn Rooney replaced full back Joel Kavanagh for Kilcullen and with two minutes to go Ben Corcoran got St. Laurences final score of the match before Finn Rooney put the final nail in the St. Laurences coffin as Kilcullen ran out 2-06 to 0-09 winners.
A hard-fought bruising encounter with Kilcullen overturning their earlier league defeat. St. Laurences will rue many missed scoring opportunities and as the old saying goes 'GOALS win GAMES' and Kilcullen certainly proved that theory to be crowned Division one league champions 2018.
KILCULLEN U16 DIV 1 WINNERS 2018: 1: CORMAC BARKER, 2: HARRY MONAGHAN, 3: JOEL KAVANAGH, 16: LUKE RUSHTON, 5: ODHRAN HEALY, 6: EOIN REDMOND (Capt), 7: ADAM DUGGAN, 8: SEAN KNIGHT, 9: JAKE MURPHY, 10: SCOT FLEMING, 11: CIARAN O'BRIEN, 12: DARRAGH BURKE, 13: NATHAN O REILLY, 14: JACK BROE, 15: ROSS CAHILL, 17: ADAM CONDON, 18: FINN ROONEY, 19: THEO KAVANAGH, 20: LIAM KNIGHT, 21: MARTIN O'TOOLE, 22: JOHN HEALY, 23: JACK REDMOND, 24: SEAN FURLONG, 25: PHELIM BEHAN.