Ladies Senior Division 3 Final – Kilcullen 6-9 Maynooth 1-10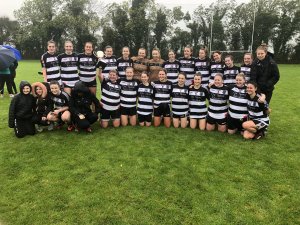 Kilcullen Ladies captured their first ever league title at adult level with a brilliant win over Maynooth. The Ragettes were clinical in the first half, racking up 5 goals to take a 5-6 to 0-3 half-time lead. The movement and ball handling of the Kilcullen attack in atrocious conditions was a joy to witness. Clare Kelly in particular excelled at taking the ball in and feeding it off to her overlapping team mates to create numerous scores in this period. Kilcullen got off to a flyer with goals from Ruth Birchall, Molly Aspell and Jayne Peacocke from the penalty spot giving them a 3-1 to 0-1 lead after 14 minutes and it was always going to be a struggle for Maynooth to get back into the game from there. Nanci Murphy grabbed a 4th goal for Kilcullen before she had to leave the fray with a facial injury and Ruth Birchall grabbed her 2nd of the game before the break.
To their credit, Maynooth threw everything at Kilcullen in the second half and actually outscored the Ragettes by 1-7 to 1-3 in the second half, but the damage was done in the first half and when Sydney Sheridan (on for the injured Murphy) got up to palm the ball to the net for Kilcullen after 7 minutes of the second half, there was only going to be one winner.
Sally Murphy was outstanding for Kilcullen winning the ball in the air, carrying it and creating panic in the Maynooth defence. Grace Rogers was dominant in midfield while Jayne Peacocke, Bróna Dooley, Molly Aspell and Ruth Birchall all also excelled. Áine Caffrey, Dervla McGinn and Shauna Kinsella carried the fight for Maynooth as they endeavoured to get back in the game in the second half, while Orlaith Kirwan's free-taking was top class.
Kilcullen: Aoife Molyneaux; Karen Bell, Eimear McBride(capt), Clare 'brownie' Kelly; Kate Timmons, Lorraine Schwer, Bróna Dooley; Katie Willis 0-1, Grace Rogers; Sally Murphy 0-2, Nanci Murphy 1-0, Molly Aspell 1-1; Clare 'blondie' Kelly, Jayne Peacocke 1-5(1-0 pen,0-3f), Ruth Birchall 2-0.
Subs used: Sydney Sheridan 1-0, Jill O'Toole, Amy Moran, Emily Kelly, Eleanor Traynor.
Subs Unused: Sarah Doherty, Avril Glendon, Jenna Pembroke, Jane O'Toole.
Manager – Niall Timmons
Selectors – Dan Bell, John Glendon, Adam Timmons.
Ladies Mentor – Grainne Timmons
Maynooth: Claire Bradley, Ella O'Connor, Eilís Ní Chorcora, Martha Gilligan; Niamh Krahn, Sinéad McMahon, Ellen MacCourt; Ruth Millett, Sarah Rose Merrick; Dervla McGinn(capt) 1-1, Áine Caffrey, Aisling Gaffney; Shauna Kinsella 0-2, Orlaith Kirwan 0-7(6f), Ali Cullen.
Thanks to Aidan Gleeson for match report.