This years sports prediction quiz has finished up recently, with Moorefield winning the Kildare Senior Championship being the last question on the prediction sheet.
The prize winners were –
1st Prize – €500 Niall Howard 88 points
2nd Prize – €250 Barry O'Grady 85 points
3rd Prize – €150 Tommie Archbold 84 points
4th Prize – €50 Gavin Woods 83 points
5th Prize – €50 David Byrne 83 points
The 20 Results were –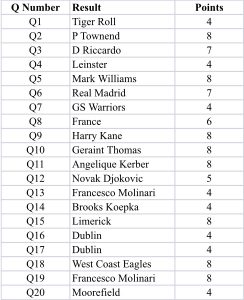 Once again a huge thanks to everyone who bought and sold tickets, these funds raised go directly back into the club as always.
Congratulations to all the prize winners who have now been contacted with the good news.
Until next years quiz, thank you from Kilcullen GAA.