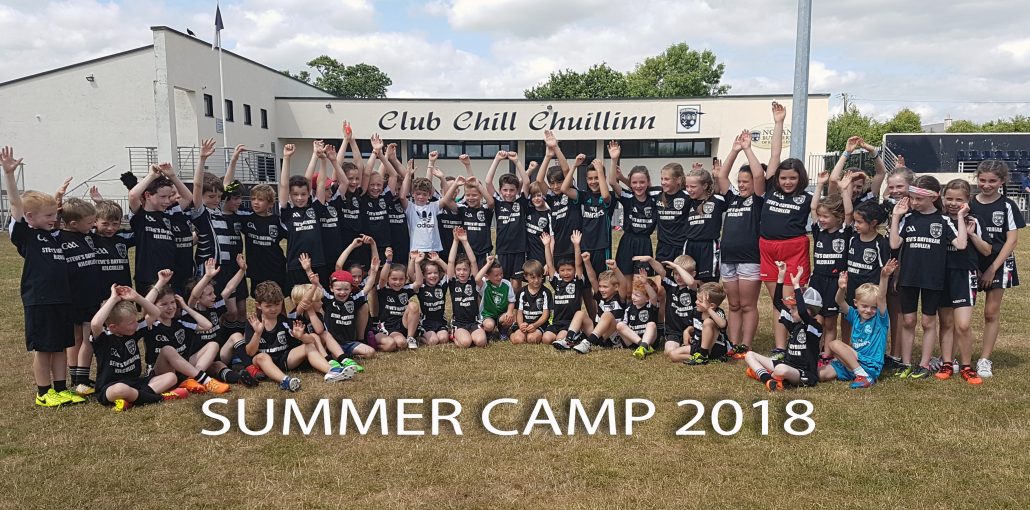 Our annual summer camp took place Wednesday 18th to Friday 20th July with 65 registered kids taking part across the three days.
The Weather gods were in good humour for the first two days of camp with all the children revelling in the sunshine and enjoying the fun games organised by our young camp leaders. The camp was divided into four groups, two boys 5-8 and 8-13 and same for the girls.
Day 1 the kids enjoyed some fun games with out big footballs once again being a big hit. At the end of day 1 all the registered children were presented with their souvenir camp T shirt which was kindly sponsored by Steve's Daybreak of Kilcullen.
Watch day 1 highlights HERE
On day two the children got a chance to meet Laura Quigley, our own home grown county player with Laura taking time to walk around all groups, answer some questions and get stuck in with some fun drills.
For some kids it was also their first opportunity to get a taste of hurling and camogie for the first time. Thanks to Ann Kennedy for her patience with all the children most of whom never even held a hurl before.
Watch day 2 highlights HERE
On day 3 the weather gods must have got out of the wrong side of the bed as the rain came down. A soft Irish summers morning was never going to deter the camp kids as they braved the weather and continued from where they left off on Thursday with FUN being the central motivation for all.
Dublin Goalkeeper Ciara Trant arrived to talk to all the players with both boys and girls getting an opportunity to talk to Ciara and get a real insight into county life and what it takes to be a top player.
As the weather improved a cheer went up with the anticipated ice cream van rolled up the avenue to the clubhouse. The camp ended with all children enjoying a much deserved ice cream as the tunes rang out from the clubhouse.
Watch day 3 highlights HERE
Special thanks must go out to all our young camp leaders who worked with the kids for the entire 3 days. The camp simply would not have functioned without their input and leadership so a huge thank you to Ava Cronin, Molly O Loughlin, Hannah Crowley, Eleanor Traynor, Maisie Bidulph, Ellen Coleman, Billy Cronin, Joel Kavanagh, Harry Monaghan & Conor Keane.