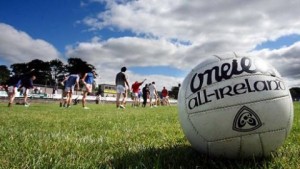 Our U11 boys have excelled this year once again with some impressive performances leaving them on top of the table once again in 2015 repeating their success at U10 in 2014 and U9 in 2013. Recent wins against St. Laurences and twice against different Sarsfields teams set the tone for the last two games of the season against Athy and Castlemitchel.
Winning has become second nature and so the boys approached the Athy game without due consideration for a strong team and suffered a rare hiccup but a valuable lesson loosing by a couple of points. This left them facing their last but toughest game of the year against a brilliant Castlemitchel team. Castlemitchel started with great flare as predicted, their movement down the wings and their point scoring was impressive. Kilcullen could not get to grips with them and finished the first half only scoring 1-2  to Castlemitchels 2-9. Heads were down and the mood was grim as the team reflected on their first half performance, knowing they were playing up the hill and against the wind in the second half to add to their woes. The issues were analysed and the fixes agreed by mentors and players.
Kilcullen set about their task to claw back Castlemitchels significant lead of 1-7 and played what was probably their most determined 20 minutes of football all year in the second half. They showed the opposition just how good they really are moving the ball at speed with precision passing and scoring from every angle. They were focused and absolutely determined, blocking, tackling, catching, winning every one-on-one contest. Castlemitchel were stopped in their tracks and did not get a single score in the second half. Kilcullen powered home to a memorable victory scoring 2 goals and 7 points in the second half to win the game 3-9 to 2-9. What a great way to end the season.
The team on the night was: James Dean in goal, Eoin O'Leary, Hugo Owens and Mathew Baars in the full back line. Tom Bohan, Jack Redmond, Lee Dalton and Edward Cahill at half back. Rossa Howard and Jamie Duggan in the middle. Tom Maloney, Samuel Treacey-Berney and Tadgh Brophy at half forward. Tom Healy, Dawson Conroy and Donnacha O'Connell at full forward.
Standout moments:
– Determination of every player to beat the odds in the second half
– Dawson Conroy high fielding and scoring 4 points from play
– Tom Maloney causing Castlemitchel big problems on the wing(1-0)
– Midfield work rate of Howard(0-1), Cahill(0-1) and Duggan(1-1)
– Defense performance of James, Eoin, Mathew, Hugo, Tom B, Jack and Lee to hold all Castlemitchel sharpshooters scoreless in the second half without giving away frees.
– Persistence of forwards Tom H, Samuel(1-0), Donnacha and Tadgh(0-3)
In their 10 league games in 2015 Kilcullen have scored 22 goals and 120 points and conceded 14 goals and 85 points. SD: 6-35.
Many thanks to all of our parents for their support during  the year and assistance with the team when asked. Next stop: The team have been invited to play in an U11 Tournament by neighbours St. Laurences featuring Raheens and also Sarsfields on
4th October
.
Mentors: Niall Howard, David Early